Are you interested in learning Spanish? Great!. You have reached Colegio Delibes. The best way to learn for first time or improve your spanish language.
Colegio Delibes is situated in a historical building, five minutes walk from the Plaza Mayor of Salamanca. It has been recently restored, and equipped with the latest technology; twenty-five air-conditioned classrooms, a video and conference room, big kitchen for cooking lessons, an audio lab, library and an IT room with free internet access, besides WI-FI. There is also an enclosed patio with a typical Castilian well where you can relax with a coffee and chat with other students during the breaks of your Spanish courses.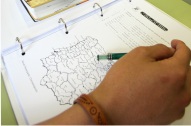 Our college is best characterized by its authentic international ambience with a complete programme of after-class activities, most of which are free for our students from our spanish courses.
Colegio Delibes offers different types of accommodation in Salamanca: spanish host families, student residences, shared apartments, hostel… and its own student residence.